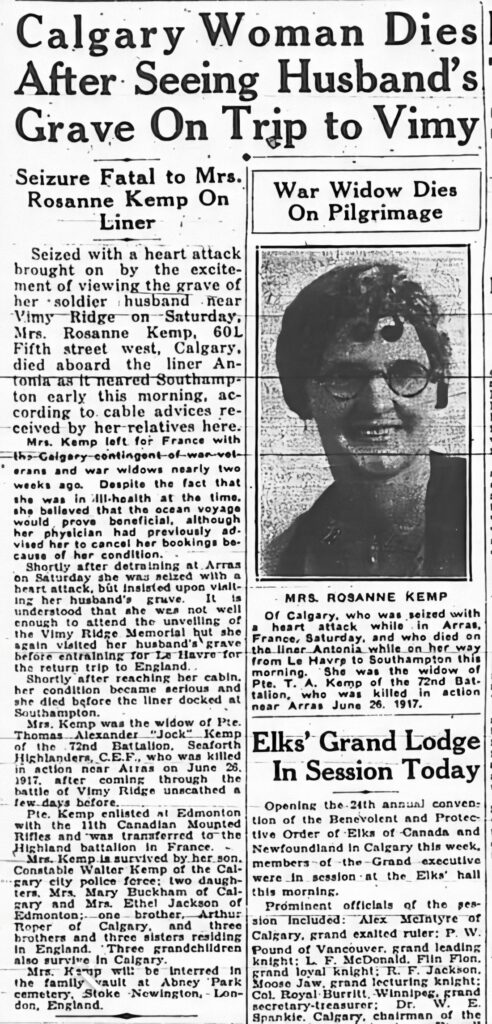 Calgary woman dies after seeing husband's grave on trip to Vimy
Seizure fatal to Mrs. Rosanne Kemp on Liner
War widow dies on Pilgrimage.
Seized with a heart attack brought on by the excitement of viewing the grave of her soldier husband near Vimy Ridge on Saturday, Mrs. Rosanne Kemp, 60L Fifth street west, Calgary, died aboard the liner Antonia as it neared Southampton early this morning, according to cable advices received by her relatives here. Mrs. Kemp left for France with the Calgary contingent of war veterans and war widows nearly two weeks ago. Despite the fact that she was in ill-heath at the time, she believed that the ocean voyage would prove beneficial, although her physician had previously advised her to cancel her bookings because of her condition.
Shortly after detraining at Arras on Saturday, she was seized with a heart attack, but insisted upon visiting her husband's grave. It is understood that she was not well enough to attend the unveiling of the Vimy Ridge Memorial but she again visited her husband's grave before entraining for Le Havre for the return trip to England.
Shortly after reaching her cabin, her condition became serious and she died before the liner docked at Southampton.
Mrs. Kemp was the widow of Pte. Thomas Alexander "Jock" Kemp of the 72nd Battalion, Seaforth Highlanders C.E.F., who was killed in action near Arras on June 26, 1917, after coming through the battle of Vimy Ridge unscathed a fews days before.
Pte. Kemp enlisted at Edmonton with the 11th Canadian Mounted Rifles and was transferred to the Highland battalion in France.
Mrs. Kemp is survived by her son, Constable Walter Kemp of the Calgary city police force; two daughters, Mrs. Mary Buckham of Calgary and Mrs. Ehtel Jackson of Edmonton; one brother Arthur Roper of Calgary, and three brothers and three sisters residing in England. Three grandchildren also survive in Calgary.
Mrs. Kemp will be interred in the family vault at Abney Park cemetery, Stoke Newington, London, England.
 https://www.veterans.gc.ca/eng/remembrance/memorials/canadian-virtual-war-memorial/detail/59885
Mrs. Kemp was taking part in the pilgrimage organized for the inauguration of the Canadian National Vimy Memorial on July 26, 1936. The Calgary Herald article, dated July 28, recounts the tragic events of her death a few hours after having visited the grave of her husband in the Villers Station Cemetery (in Villers au Bois).